Worming:
All puppies are wormed before going to their new home. I highly recommend that you have your puppy's stool checked twice during the first month of bringing the puppy home. Ask your vet to check for coccidiosis, giardia, and worms. Loose stools during transition can be a sign of Giardia or Coccidia. These are one cell organisms that can cause loose stools. Our puppies are checked before shipping but many parasites can remain dormant in the intestines of puppies until the puppy is stressed. The stress of surgery, traveling, and adjusting to the new home can bring these to an active state. A dormant parasite cannot be diagnosed. In addition, we recommend checking the puppy stool more than once because these tests are only approximately 80% accurate. Parasites can become life threatening if not diagnosed and treated.
Heart Worm, Flea & Tick Control
:
Talk to your vet about proper flea control for your area.
I give Sentinel for heartworm preventative on the 1st of the month. I apply Parastar for flea and tick preventative on the 15th of the month. I do not use any products that target external parasites in combination with heartworm prevention. It is my belief that those products are too strong for our tiny toy dogs. I try to space all products out as much as possible and also avoid giving more than one vaccine at a time.
You should clean the ears two times monthly with a gentle ear cleaner. If you own cats, swab the ears of your puppy with mineral or baby oil twice a month. This should help prevent your puppy from getting ear mites from your cat.
I also treat my yards with a pesticide. I do not treat the area where my pets go out on the grass but all of the outlying areas are treated. It is very important that you check with your vet to be sure any products you use on the yard are safe to be used in conjunction with the product you use on your pet.
Avoid These Household Hazards:

There are a few things that you need to watch for to ensure the safety of your Pom. You should never leave your Pom unsupervised outside. Puppies are curious, wandering about to investigate their surroundings, and you can never be sure what they will come into contact with. It is important to keep your puppy off balconies, high decks, raised porches, and other elevated surfaces.
Keep all chemicals such as cleaning supplies, detergent, bleach, paint and thinner, fertilizer, disinfectant, insect and rodent repellent, and antifreeze stored in a secure area. Be sure that your Pom cannot gain access to these and other chemicals.
Keep poisonous houseplants out of reach of your puppy or even better, remove them completely. Some common poisonous houseplants include:
| | |
| --- | --- |
| Amaryllis | Azalea |
| Bleeding Heart | Caladium |
| Clematis | Daffodil |
| Daphne | Didffenbachia (Dumb Cane) |
| English Ivy | Foxglove |
| Holly | Iris |
| Ivy | Mistletoe |
| Morning Glory | Narcissus |
| Oleander | Philodendron |
| Poinsettia | Potato |
| Rhododendron | Rubber Plant |
| Tobacco | Tulip |
| Weeping Fig | Yew |
There are also foods that are harmful to your Pom:
May cause vomiting, abdominal pain and/or diarrhea:
| | |
| --- | --- |
| Wild Cherry | Almond |
| Apricot | Balsam Pear |
| Japanese Plum | |
May cause varied reactions:
| | |
| --- | --- |
| Yeast Dough | Coffee Grounds |
| Macadamia Nuts | Tomato/Potato Leaves and Stems |
| Avocados | Onions and Onion Powder |
| Grapes | Raisins |
| Chocolate | Pear and Peach Kernels |
| Mushrooms (if toxic to humans) | Spinach |
| Rhubarb | Alcohol |
| | |
To see a list of Plants and Human Foods to avoid with your Pomeranian please check this page:
Household Hazards
Do not use electrical pads or blankets in your puppy's bed, and keep electrical cords covered or out of reach Chewing electrical cords can cause mouth burns, electrocution, or fire. It is also a good idea to use plug covers when outlets are not in use.
Keep all plastic bags away from your Pom. He could be trapped inside and suffocate. He could also chew the bag and swallow small pieces of the plastic which could cause choking or be harmful to his digestive system.
Ribbons or Collars around your puppy's neck can be very dangerous. He could catch these on something and choke. He could also chew and swallow these which could cause digestive problems.
Choosing Pet Insurance:

Just as health insurance is a necessity for you and your family, it is also an essential choice for your puppy. Pet Health Insurance can greatly benefit your puppy's overall health and longevity by allowing for care you might otherwise not be able to provide.
Catastrophic Coverage
is an additional coverage choice that can eliminate many tough choices that pet owners may be forced to otherwise face when their pet needs surgery or other critical care.
There is a wide variety of coverage available and a great number of companies to choose from. Speak with your veterinarian about the best options available for you and your Pom.
Choosing A Groomer:
It is a good idea to learn to groom your Pom yourself and use this as a special time for you and your Pom. Not all groomers do a great job grooming a Pom unless they are taught Pom grooming by a Pom exhibitor.
Interview perspective groomers if it is necessary to send your Pom out for grooming. I recommend that you personally visit a few that seem to be private owned smaller establishments. When the owner of the business is also the groomer, they generally care more about your happiness. Talk to the groomer or owner and choose one that you feel comfortable with. Be sure they understand your expectations and build a good relationship with your groomer.
There is a risk that the a Pomeranian coat will not grow back if you shave or trim the coat short. This requires careful consideration.
Choosing to Groom your Pom yourself

:

Bathing:
Poms go through two coat transitions before getting their adult coats. The first puppy coat is shed between 3 and 6 months. Then your puppy will grow another intermediate puppy coat. That coat will get big and plush. Then the Pom will shed again between 12 and 18 months before growing their most magnificent adult coat. Male dogs do not shed nearly as much as female dogs other than the previously mentioned shedding periods that are typical of all Pomeranians. I seldom notice dog hair in my home because my Poms are groomed regularly.
You may bathe your Pom puppy weekly. As your Pom matures, you may find that they only need a bath once monthly. Choose a good oatmeal or baby shampoo. If your dog has an oily coat, non-ultra dawn dish soap will help remove the oil from the coat. I also use a dab of dawn dish soap around the ears to remove those natural oils. Those oils cause clumping and will cause mats which are painful to remove. Always brush and comb out your Pomeranian before bathing and again while blowing dry. When done, you should be able to easily comb through all the coat, down to the skin.
During the spring shed, comb out and bathe carefully at least once weekly for 2-3 weeks to prevent hair in the house. I use a fine tooth comb to remove the undercoat. You should not shave your Pom!! There is risk that a Pom's coat will not grow back after shaving.
Nails:

Keeping your puppy's nails clipped to the proper length is essential to his health and comfort. Nails should be trimmed every other week and kept short. Leaving nails too long can lead to arthritis later in life. Long nails will break down the joints in the lower leg (pasterns) and damage the legs. A low rpm (5,000 to 10,000 rpm) cordless dremmel works well to file the nails down - you would need to do this every week to keep the nails short. You only press it to the tip of the nail for a few seconds, remove, and then press again. Continue this process until you see the tip of the quick(a small pink spot). You do not want to just hold it to the nail or it will got hot. Electric dremmels are too powerful for grinding Pomeranian toe nails.
Eyes:

If your puppy is prone to a slight eye discharge, wipe the eyes daily with a water dampened and well wrung out cloth
or use Angel Eyes Tear Stain Wipes. I notice this mostly during the windy times of year.
Click to order Angel Eyes Tear Stain Wipes
You can also sprinkle Angel Eyes Powder on their food or use Angel Eyes Tear Stain Soft Chews.
Click to order Angel Eyes Tear Stain Soft Chews
I use Angel Eyes Plus Tear Stain Wipes and Angel Eyes Plus Soft Chews as needed.
Remember that Angel Eyes prevents future stains from forming. It can take 6 weeks for existing stains to go away completely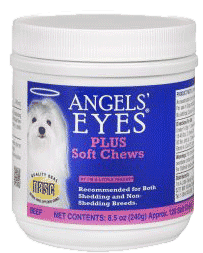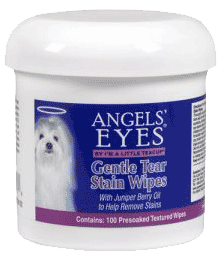 Skin Trouble:



Malaseb Shampoo
is known to resolve many minor dermatological conditions including itchy dry skin, dandruff, flushes out infection in the hair follicles, hot spots, skin infections, lick granulomas, acne, seborrhea, and more. You can order it from
https://www.chewy.com/malaseb-medicated-shampoo-dogs-cats/dp/119234
Shampooing every four days to a week is highly recommended. Lather and let it sit on the skin/coat for ten minutes before rinsing.
Do not let the dog lick the lather.
Trimming Your Companion Pomeranian:
You can trim under the tail some if you find that stool is sticking to the hair. I find that if this does happen occasionally, you can wash that area and use a little baby powder to clean up. You can use baby wipes to keep them clean and fresh smelling all the time. If you choose to trim, mostly trim for neatness and do not trim closer than a half inch from the skin. You can trim a quarter size circle around the anus really short though. It is important to understand that when the coat is trimmed extremely short on Poms, it doesn't always grow back.
To trim the hair on the ear, put the ear between your first finger and thumb with your thumb on the front of the ear and your nail pointing up. Run your thumb up the front of the ear to feel where the skin ends. Trim just above the top of the ear leather with only a slight curve. You can basically follow the shape of the top of your thumb nail but do not trim down the side of the ear.
Essential tools:
a slicker, a long toothed medium/coarse comb, a small fine/medium comb, a pin brush, a scissor, and a nail trimmer or dremmel.
Do You Want To Trim Your Pom To Look Like A Show Pom?
The following is an excellent video to help you learn grooming techniques. You will not use every technique (like all the powder). I don't even do that with my show Poms but you will learn lots of technique from this video.
"Grooming and Trimming The Pomeranian" by Chris Heartz
http://www.pcoc.net/grooming.htm
More Shopping with Char's Poms
I
purchase most of the products I use from
www.Chewy.com
I order the next four grooming tools, water bottles, and show leads from
www.Pawmarks.com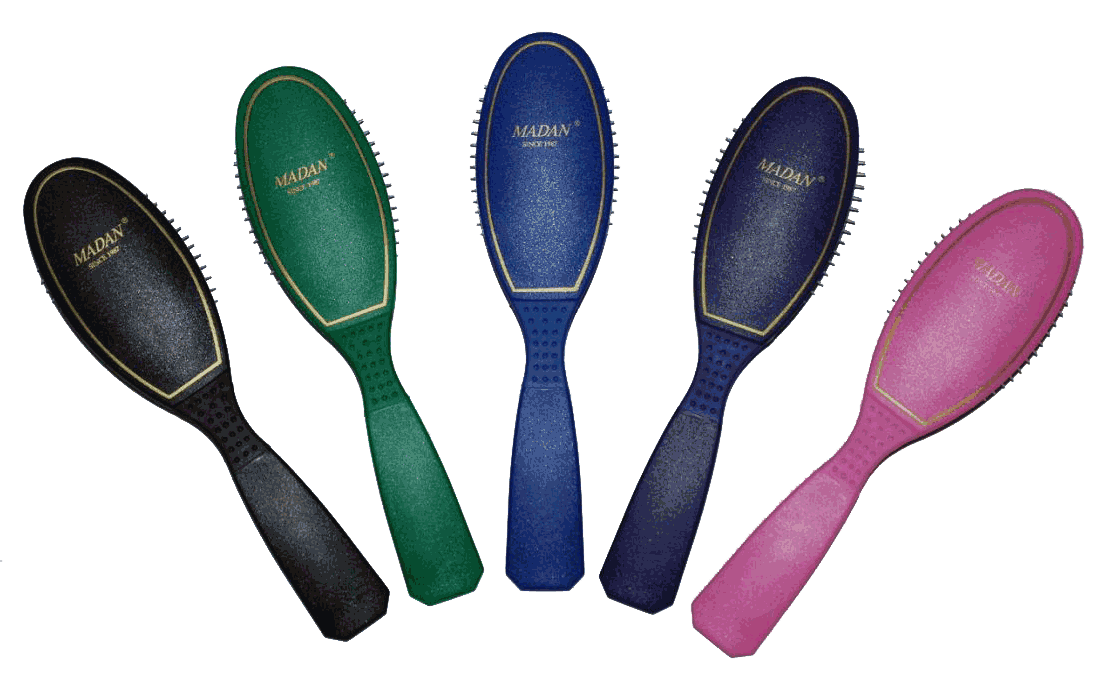 Maddan Pin Brush
I use this for brushing while the dog is dry and also while
blow drying to separate each hair to the skin.
Click to Order your Pin Brush today
I like the pin brushes that do not have the little round nobbies on the
ends of the pins. Those nobbies can catch and pull the hair.

Slicker - I order the large because it has longer pins which are
necessary to get through a Pomeranians coat.
Click to Order your Slicker Brush today

4.5 inch Face/Finishing Comb
I use this for under the eyes, around the ears and on the legs -
Click to Order your Face/Finishing Comb today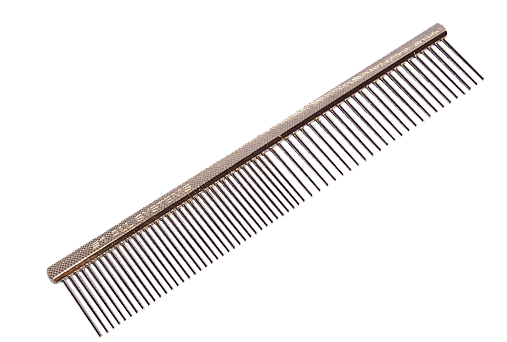 7 1/2 Inch Geib Stainless Steel Greyhound Combs Medium/Coarse
I use this throughout the body to separate the hairs and remove tangles -
Click to Order your Medium/Coarse Comb today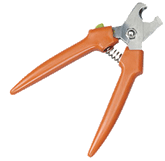 Millers Forge Nail Clipper with Orange Handles
I like these large nail clippers because they are really sharp and cut
through the nail quickly.
Click to Order your Nail Clippers today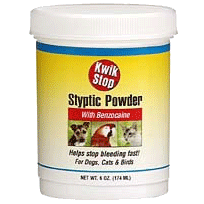 Kwik stop
I buy the 1.5ounce size
Click to Order your Kwik Stop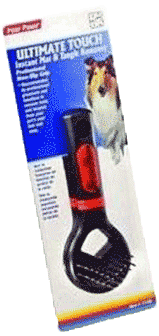 Ultimate Touch
I use this to aid in removing a tangle or mat.
It is gentler than a comb in such circumstances.
Click to order your Ultimate Touch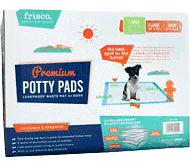 I order the XL size potty pad but this size will work for households with one Pom.
I put Orijen, Prime Taste Treats, potty pads, and elk antlers on auto ship.
It is so convenient. I will often go in and add a toy or two to my order just for the fun of it.
Click to order the Potty Pads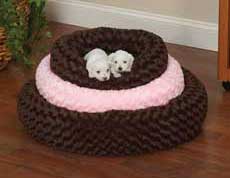 Pet Edge
also has a variety of toys and beds at great prices. Pictured are some of our Poms favorite toys and beds
I
n The Company of Dogs
is a an online store with a great selection of high quality items for your Pom and other dogs. They have some of the prettiest yet functional gates and pens, beautiful beds, and a line of great toys that are made in the USA.
www.InTheCompanyOfDogs.com
1-800-544-4595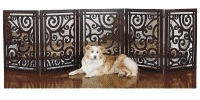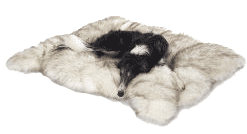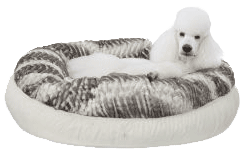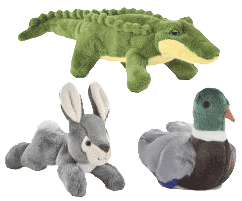 Dental Care:
How often should your Pomeranian have a dental cleaning? That is a good question because each dog is different. Some chew on bones more than others and those need dentals less often. This is why it is important to encourage your young puppy to chew on bones. Then they are more likely to chew as they get older. I encourage them to chew and the knee cap bones are wonderful for keeping the teeth clean.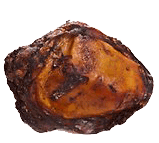 They are smoked with some of the beef left on the bone. They are great for chipping tarter off the back teeth and keeping the teeth clean. This is the best size for smaller breeds.
I order bones from
Chewy

Some of the Poms that do not chew need a dental every 6 months. I do not like to put my Poms under anesthetic that often so I brush teeth on the ones that are not keeping their teeth white with chewing. I also use Petz Life products. You can order Petz Life from
Chewy
I believe that this product works well to soften the tarter and then it scrapes off easier when the Poms eat kibble or chew on treats.
Multiple studies have shown that dry foods help to reduce plaque and tartar formation compared to wet (canned or homemade) diets
Hill's ®;Prescription Diet ® t/d ®Canine Dental Health helps to keep the plaque and tartar down on dogs teeth, when fed as a treat. We prefer this formula for our Poms rather than the small bites formula and we only use it as a treat. You can purchase t/d Canine Dental Health at any Veterinarian who sells Science Diet products.
Click to order Elk Antlers
The Poms chew on these split elk antlers a lot at my house. They love them and I like that they are mess free. They can have them anywhere and even take them in the car. I have found them to be very safe as well.
If you want to avoid dentals completely, you really need to brush teeth at least four times a week. It is important to start young before any tooth decay begins. The dogs love the doggy toothpaste so this really is not a difficult choice. We feel it is very important so we start tooth brushing while our puppies are young making it easier for the new owners to carry on this grooming task. The brands of doggie toothpaste that I choose are C.E.T. or Petrodex. I use all flavors but liver - most did not like that flavor as much The pups do get their teeth brushed here. There is technique to it so I recommend starting with the finger toothbrush that slides over your finger - then graduating to a small toothbrush. This kit can be ordered from
C

hewy
if you cannot find it locally.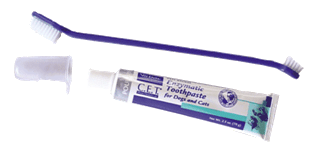 A diseased mouth can also cause or worsen other conditions such as diseases of the heart, kidney and respiratory system. You should check your puppy's teeth regularly. He will gradually lose his baby teeth. Your vet should extract any remaining baby teeth at nine months of age.
Between professional cleanings, you should take on the responsibility of cleaning your puppy's teeth. We start this early training while the puppy is still with us so that you can successfully care for the teeth. Experts suggest brushing a dogs teeth at least every other day. I highly recommend brushing your Poms teeth daily whenever possible.
After your Pom becomes accustomed to the finger brush, then graduate to the pet dental brush, in conjunction with special toothpaste made for dogs.
House Training:
A puppy must have food and water through the night as well as an appropriate place to go potty until he is six months old. Poms have tiny stomachs and do not eat much at one time. The puppy cannot and should not hold it all night before six months of age. In trying to make that happen, a puppy would be at risk for low blood sugar. I know no new owner wants to risk that. A three month old puppy requires two to three potty breaks during the night. At that age you must leave food and water for him overnight as I do plus a potty pad for appropriate training or you must get up with him through the night to feed, water, and let him go potty. This is one reason why I feel that three month old Pomeranian puppies are not ready to go to a new home.
At four months of age, a Pom puppy will need to potty once, half way through an eight hour night. No meal is required during the night since the puppy is now fed every eight hours. During the day the puppy should be taken to the potty area every two to three hours plus after eating, drinking, and naps. After each month passes, add one hour of additional time between potty breaks until he can hold it for seven to eight hours. Once the puppy is mature and well trained, he should never be expected to hold it more than 8 hours.
House training will be easier if you do not allow the puppy to have free run of your entire house.
Litter Training Puppies
A BOOK all about the successful litter box training of puppies.
Email Theresa at happyhomeworker2428@yahoo.com or visit her website
Click for Litter Box Training
Spaying and Neutering:
There are also some health reasons for spaying and neutering at a young age—such as pyometra, a life threatening infection in females. It also reduces the risk of breast cancer in females and prostate cancer in males.
Early spaying and neutering can help with house training.
Another important reason for spaying and neutering are that it makes for a calmer, gentler pet.
Males versus Females:
A male keeps a more beautiful coat at all times and I love a Pom with massive coat.
My males are my favorite Poms. For me, they are more loving and devoted to me.
I always say that the males look at their loved ones as if the sun rises and sets on them. Nothing matters more to them.
I feel that the typical female Pom has a more independent personality. If they are preoccupied, they may not rush to your side just because you want them too.



Socialization:
A well-socialized puppy is a happy puppy. You should have your pet interact with a wide variety of family members, friends, and strangers while he is young so he learns to get along well with all kinds of people. Socialization permanently shapes your Poms personality and how he reacts to things in his environment. It is important to gently introduce your Pom to a variety of new people, places, and situations. This will help your Pom to have more confidence in his surroundings and to be less fearful of new things.
Proper socialization can be easily accomplished by taking them on family outings, shopping, lunch, and by planning play dates with friends with toy dogs. The more places you take him, and the more people he meets, the easier it will be for him to take new situations in stride as he matures.
A combination of good genetics and proper socialization can prevent fear induced barking behavior. This is very important and one of the reasons Char's Poms are so popular.
If you choose to socialize your Pom in puppy classes, ask the trainer about their policy regarding vaccinations and aggressive dogs.
Special Tips:

Prevent puppies and adults from jumping on and off furniture. This should prevent injuries to their patellas. Teach them that if they are placed on furniture that they must stay there until you lift them off.
Children and Pomeranians can get along just fine if the children are taught proper behavior with the puppy. Children must learn to properly handle a Pomeranian and only do so under direct supervision. Small children should be encouraged to sit on the floor to hold a Pomeranian puppy. They should not carry the Pomeranian. You should be sure that your child's friends also know how to treat the puppy.
Planning is key! Pomeranians are for gentle loving. When toy breed dogs are teased and tormented by children, they learn to dislike small children. The dog will either run and hide from the child or defend himself. If you see this type of behavior, it is past time to have a talk with the children. Unfortunately, the dog will end up in trouble if he reacts aggressively so be sure you have considered all this before you bring a Pomeranian into your family.
I often hear about Pomeranians being hurt by large breed dogs. The most common is large breed puppies that innocently hurt toy dogs in play. Large breed puppies like to bounce around in play and could land on a small dog causing serious injury. Always take care to protect your Pom from larger breed dogs that are not familiar with toy breed dogs. Hunting dogs can naturally think a Pom is the prey. LArge and small dogs can get along just fine with proper training and supervision.
Poms need stimulus and an environment that will enhance their intelligence and their physical being. Provide several toys and play games with your Pom. Pomeranians love finger games.
I do not recommend the use of collars on Pomeranians. Collars mat the coat around the neck. If a collar is necessary, please use a rolled leather collar. Do not leave a collar on a dog that is not supervised. I often use a leash and harness for taking walks.
I recommend you do a google search under shopping for "Puppia harnesses" to see all the cute styles. These are sold in so many places that I feel that is the best way to find the color and style you want.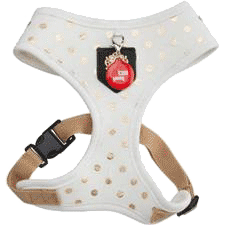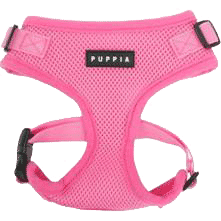 I also recommend the light weight show leads for walking. This is a light weight lead and collar combination that you simply remove after the walk.
Click to shop for show leads
Do you have a balcony or fence with openings wide enough for your Pom to walk through? Don't take chances with your toy-sized dogs. An accidental fall from a balcony or escape under a fence can have terrible consequences. Check out
Puppy Bumpers
. Even with Puppy Bumpers, direct supervision is necessary.
Show Information:

A good, but very general, book that I have read on showing is called Dog Showing for Beginners by Lynn Hall.
There are lots of dog shows - go to
Infodog
. Click to find shows in your state.
When the map comes up click on the state - you will get a list of shows - "AB" stands for "all breed" and those are the shows to look at for conformation events - you can click on the name of the kennel club to get more information about the show.