Short history of Char's Pomeranians


Char's Pomeranians started out as a dream, the dream of a young girl determined to make a positive influence in the breed she loved. No one could foresee how that dream would become a reality, touching so many hearts and breeding programs in such a relatively few years. Today, Char's Pomeranians, is a household name for most Pomeranian enthusiasts.
Char purchased her first Pomeranian in 1994 but did not decide to breed and show Poms until 1998. She has dedicated over a decade to the Pomeranian breed and that dedication is becoming quite apparent to those who follow the Char's Poms in and out of the show ring. Char has enjoyed breeding several champions, group winners, and more than a few Best In Show winning Pomeranians. A large number of the Char's Pomeranians proudly carry the Championship title and are quickly accumulating the Grand Championship titles as well. The American Pomeranian Club has consistently awarded Char with top breeder and top exhibitor awards since 2005, a prestigious recognition.
In the Char's Pomeranian breeding program, Char strives to breed happy, healthy Pomeranians in accordance with the standards of the American Pomeranian Club and the American Kennel Club. Making a difference is of utmost importance to Char and she enjoys a challenge so it isn't surprising that she took on the challenge of the parti-color. When Char finished her first parti-color champion, there were only 14 champion parti-colors. Now there are well over 100. Char is the current breeder and owner of the:
—

Top winning parti-color in the world




—

Youngest, fastest finishing parti-color


—

First Grand Champion parti-color


—

First parti-color to win dual championship titles



It is Char's goal to see parti-color Poms compete on an equal basis in the show rings all around the world.





Char's Poms consists of two completely separate breeding programs. One consists of Pomeranians that have no parti-color in their pedigree. These are orange, cream, sable, black, and black & tan. The other is for parti-colors and includes all of the above colors, as well as chocolate. Char enjoys the challenge of breeding quality Pomeranians in a variety of colors.



Char's Poms can currently be seen excelling in the show rings of Canada, Mexico, Honduras, Costa Rica, Bahamas, Panama, Guatemala, Brazil, Argentina, England, Scotland, Norway, Sweden, Finland, Ireland, Portugal, Spain, France, Switzerland, The Netherlands, Belgium, Germany, Italy, Czech Republic, Poland, Denmark, Lithuania, Belarus, Hungary, Bulgaria, Slovenia, Latvia, Bulgaria, Russia, Kazakhstan, Turkey, Israel, Egypt, United Arab Emirates, South Africa, South Korea, Philippines, Hong Kong, Thailand, Japan, Singapore, Malaysia, Indonesia, China, Taiwan, Australia, Iceland.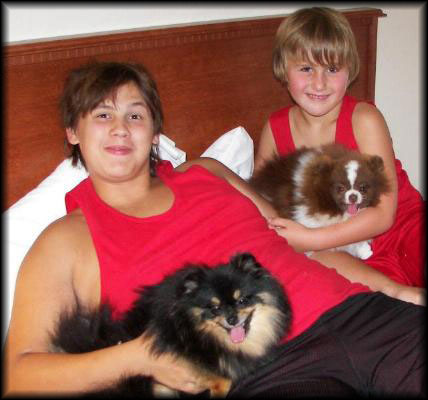 Other members of our family are, Daisy, our spayed German Shepherd and our neutered cat - Alvin. They all like to help socialize the puppies, preparing them to join a variety of families.
All our puppies are raised to believe they are the next STAR whether he or she is the STAR of your heart or the STAR of the ring, a STAR all the same.


My boys are growing up. Thankfully, they still
enjoy spending time with the dogs.

I have many fond memories of the boys
in the show ring, showing their favorite Poms.
The
S P E C I A L
care the Poms receive here brings out the very best in each and every one of our Pomeranians. Our Poms are held several times each day from the time they are born, raised in our home amongst our family, both two- and four-footed, right in the middle of family life. For Char's puppies this consistently aids in easing the transition to their new homes.
We believe that our Pomeranians should get the best of everything, nothing less would suffice here at Char's -
—
S
leepy time with soft cuddle beds
—
P
laytime with a large variety of toys to challenge the mind
—
E
xceptional veterinary care
—
C
arefully selected foods, vitamins, and treats
—
I
ntensive routine grooming schedule including tooth brushing
—
A
ll the love any Pom could want

— L
oving home environment
My ideal Pomeranian is sound in both mind and body, with a great personality, beautiful carriage with neck carried high, appealing type, and correct movement. I strive to consistently produce Pomeranians of this quality, Poms that will excel in the show ring as well as the home, happily warming any lap.
(Above) A large fenced grass yard for the Poms to run and play.
(Right) Pens on pea stone for cleanliness on wet days
.